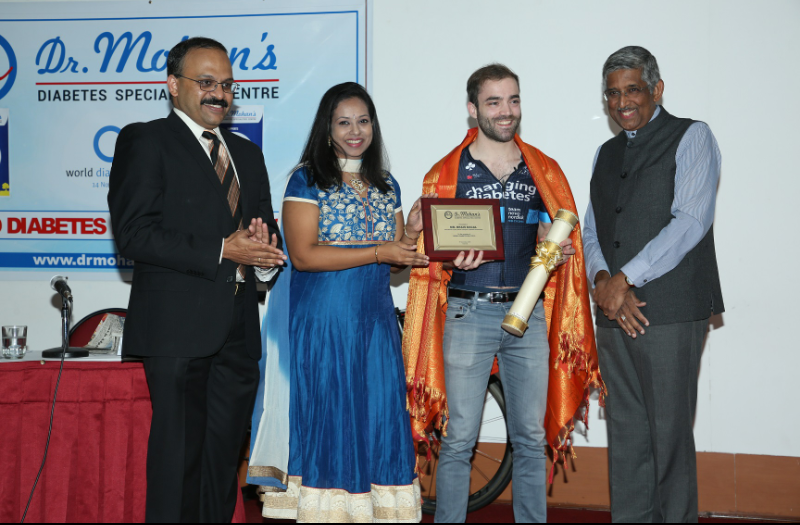 Noted champions who successfully fought Diabetes themselves or helped fight diabetes in a close family member narrate their inspiring tales on World Diabetes Day event conducted by Dr. Mohan's Diabetes Specialities Centre
Noted Spanish cyclist Mr. Brais Dacal, Active Ageing Ambassador Mr. Hari Baskaran and squash coach and Dronacharya awardee Mr. Cyrus Pooncha enlighten and inspire audience on Dr. Mohan's Diabetes's World Diabetes Day event
A special highlight on this was a brilliant performance of Dance by Type 1 Diabetes kids along with the launch of an exciting 90 Day Fitness Challenge by Dr. Mohan's Diabetes Specialities Centre
Chennai , November 9th , 2019 : On the occasion of World Diabetes Day, Dr. Mohan's Diabetes Specialties Centre conducted an event with a focus on this year's theme ' Family and Diabetes 'which showcased a series of inspiring tales and performances by various dignitaries and icons. Noted international cyclist from Spain, Brais Dacal spoke on how he overcame Diabetes and its resultant complications. Former Corporate Executive and Active Ageing Ambassador, Mr. Hari Baskaran narrated his fitness story at age 70 and also gave a very emotional and poignant account on his brother's fight against type 1 diabetes, noted Squash Coach and Secretary General of the Squash Rackets Federation of India , Mr. Cyrus Pooncha – a Dronacharya awardee recounted the experience of his wife Roshan who was diagnosed with juvenile Diabetes from the age of 2. Apart from the presence of these inspiring icons who were a part of fighting Diabetes, the evening also beamed with colourful THANDAV dance performance by adolescent girls and a special dance performance by type 1 Diabetes kids to peppy fast paced Bollywood music. THANDAV is a fitness regime designed and curated to fight sedentary lifestyle and other lifestyle related physical complications. The announcement of the launch of 90 DAY FITNESS CHALLENGE was also a part of this event. The challenge was a customized challenge designed to cater to the need of participants for a well monitored and strictly assessed fitness challenge involving regular check-ups, updates and assessment by physicians from Dr. Mohan's Diabetes Specialities Centre with the aim of reducing body weight by 5% and glycosylated heamoglobin by 1%.
Commenting on the occasion of the event, Dr. V. Mohan, Chairman of Dr. Mohan's Diabetes Specialties expressed " I am extremely delighted and honoured to have such inspiring icons like well renowned Spanish Cyclist and Ambassador for Diabetes management, Brais Dacal, fitness enthusiast and cyclist Mr. Hari Baskaran and squash coach Mr. Cyrus Poncha who had fought or helped a family member to overcome Diabetes demonstrated how by strict discipline and strong resilience, today the people with diabetes can live normal and healthy lives. The theme for this year's World Diabetes Day is 'Family and Diabetes'. This theme aims to raise awareness of the impact the diabetes on the family and the support network of those affected. There is no doubt that if one person is affected with diabetes in the family, it affects the other members as well. When the husband or wife has diabetes and especially if they develop some complications of diabetes or other, eg., affection of the eye, feet, heart, kidney, it affects the morale of not only the patient but also of the whole family . With this in mind, we have launched the exciting 90 Day fitness challenge which will be personalized, catering to the needs of the participants who can take part with regular follow-ups and assessments by our team of doctors. Overall, I believe that the theme chosen for this year's World Diabetes Day by the International Diabetes Federation 'Family and Diabetes' is very appropriate because it is only with such a support provided by the family that the person with diabetes will be able to live a better quality life and family support in diabetes care has shown to have a substantial effect in improving health outcomes for people with diabetes. "
Managing Director and Diabetologist, Dr. Mohan's Diabetes Specialities Centre, Dr. R M Anjana expressed "Lifestyle related modifications like regular fitness routines and proper balanced diet are crucial happy wheels for strong Diabetes Management. THANDAV is uniquely designed and curated with an aim to fight lifestyle related complications. This is to show that we need to constantly keep motivating us in order to manage properly a well balanced fitness regime to overcome all future complications. We definitely also do require the support of our family members in order to achieve this in the long run. "
Emphasizing the significance of family support in the management of Diabetes, former Corporate Executive and Active Ageing Ambassador Mr. Hari Baskaran expressed "My fondest recollection of our family is the animated conversations we had at the dining table. Our parents made it a point that we all eat every meal together and my brothers and parents would engage in a lively debate on a wide range of topics. We were allowed to live our lives the way we wanted to and encouraged to excel. My brother Ravi Baskaran had type 1 diabetes from the age of 16. He lived a vibrant and active life until his demise of pancreatic cancer at the age of 73, in 2013. Ravi was not only an accomplished cricketer in the Tamilnadu junior state team but also an active member of Madras Players, a popular English theatre group in Chennai and an avid participant at the Toast Master events. He had won many laurels for his oratorical skills.
He was extremely disciplined in his management of his lifestyle with proper diet and regular physical activity, social engagements apart from his personal time. His loving wife Marie gave him enormous emotional support maintaining a close watch on Ravi by assisting him with all requirements and basic necessities. "
Adding to this Mr. Hari Baskaran also elaborated that his brother Ravi was never made to feel disabled in any way despite not having proper access to information, knowledge and treatment on Diabetes during those days. He also mentioned saying that his brother was well disciplined with his diet and physical regimen with his dear ones never letting him the need for taking daily injections since the occasional bout of insulin shocks used to upset them.
Noted International Spanish cyclist from Barcelona Brais Dacal , who has his career ambitions centered around working for the UN in the future shared his narrative and experience on fighting Diabetes right from the age of 7 when he was diagnosed with Type 1 Diabetes. Dacal was diagnosed with type 1 diabetes when he was seven years old and initially was cautioned that he would need to lead an easy life and not push himself beyond a point. Dacal also explained that he had spent five seasons with Team Novo Nordisk's Development team in managing his Diabetes. With no more into racing, he serves as one of Team Novo Nordisk's standout ambassadors and is known for giving some of the most inspirational talks on his experience on racing and living with diabetes. He also confidently claimed that people with diabetes have a bright future ahead since they are the only one who can set their own limits.
Mr. Cyrus Poncha National Squash Champion spoke about how his wife Roshan was not only was she able to manage her type 1 diabetes well and deliver and raise two children, but she was also an actor, having acted in several plays and dramas.
Overall the evening was filled with inspiring stories, beautiful dance performances and new as well as interesting insights in tackling Diabetes with the help of family members. With the focus on the theme Family and Diabetes, the event highlighted major aspects on fighting Diabetes linked to this year's theme.
About Dr. Mohan's Diabetes Specialties Centre:Dr. Mohan's Diabetes Specialties Centre is a the world's largest diabetes speciality chain founded in the year 1991 and is headquartered in Chennai, Tamil Nadu. It offers comprehensive services for diabetes patients. Dr. Mohan's Diabetes Specialties Centre now has 50 Diabetes centres and clinics in India and over 4.8 lakh diabetic patients have been registered at these centres. The centre specializes in Total Diabetes Care, Diabetes Eye Care, Diabetes Foot Care services, Diabetes Cardiac Care, Diabetes Dental Care, Preventive Care, Diet counselling and an advanced laboratory. Appointments can be booked by visiting www.drmohans.com