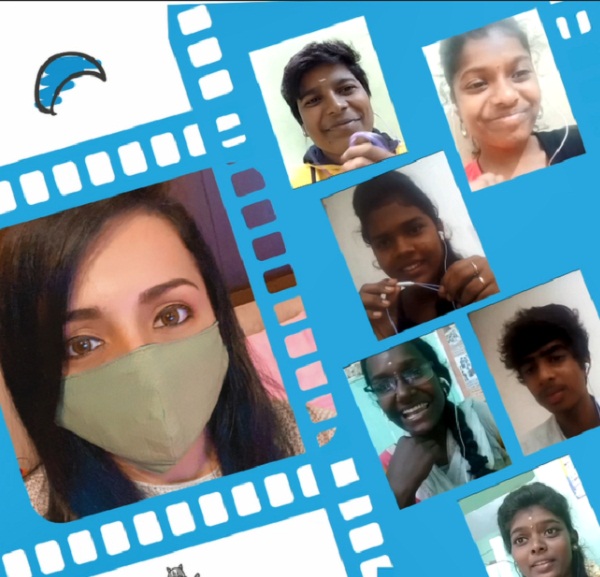 On International day for the girl child calls for more investment and innovative solutions
Chennai, 11 October 2020 – Popular film star and UNICEF Celebrity Advocate, Trisha, called for innovative solutions for ending all forms of violence against children. She virtually met and congratulated the adolescents and young people who are champions in stopping early marriage and ending violence against children by raising awareness in the community.
A year back in August 2019, Trisha, had met these children and urged them to speak up to end violence against children, including ending child marriage, and break the age-old culture of silence.
"I am thrilled to meet the young champions who raised awareness in their community on the dangers and long – term impact of child marriage. They worked with their peers to create a safety net to protect children from getting physically and sexually abused. These are trying times due to COVID- 19, but it has not affected the children," said Trisha. "These efforts by the adolescent and young people are courageous and commendable. I take this opportunity to salute them for their incredible efforts."
Speaking about the children's efforts, Sugata Roy, Communication Specialist, UNICEF said "Adolescent girls and boys exercised all techniques, from one on one interaction to street theatre, designing posters to shooting films, advocating with media to writing petition to the administration. As a result, there has been no child marriage in the community, especially during the time of COVID-19."
According to the National Family Health Survey – IV (NFHS IV), about 150,000 early marriages takes place in Tamil Nadu. It is also depressing to note the rise in child abuse cases. In 2019, there is an increase of 50 percent child abuse cases as compared to 2018. In the last five years there has been 250 percent rise in the crime against children.
Stressing on the importance to address the challenges and opportunities adolescent girls face, Trisha said, "It is the need of the hour to reimagine a better world where the decision makers count them, listen to them and invest in their education and skills. Let us explore the innovative solutions to end gender-based violence and child marriage."
About UNICEF
UNICEF works in some of the world's toughest places, to reach the world's most disadvantaged children. Across 190 countries and territories, we work for every child, everywhere, to build a better world for everyone. For more information about UNICEF and its work for children visit www.unicef.org.
Follow UNICEF on Twitter and Facebook