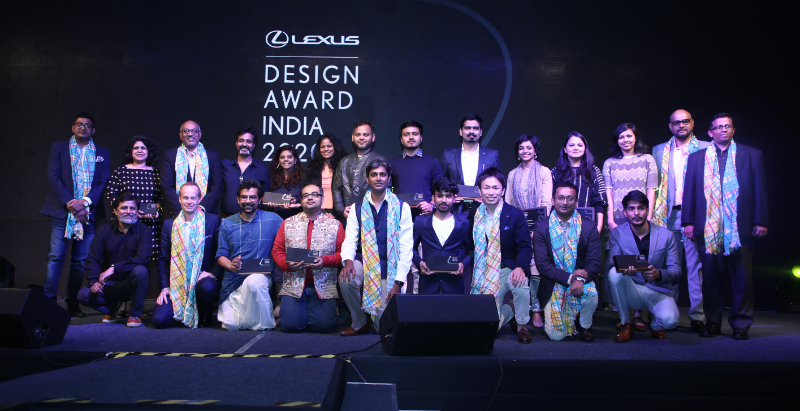 Over 880 Indian designers showcase socially responsible solutions, conceptual category winners invited to Lexus Design Event at Milan Design Week 2020
13 January 2020, Chennai, India: Lexus India wrapped up its 3rd edition of India's prestigious and fiercely contested design awards – Lexus Design Award India (LDAI). The winners of the third LDAI were chosen from 885 high quality entries from all over India.
Winners from the Conceptual categories have been shortlisted for the Global Lexus Design Award 2020 (LDA) and will be invited to the Lexus Design Event at Milan Design Week.
Speaking on the occasion P.B. Venugopal, President, Lexus India, said, "We are in the third year of LDAI and with each year the popularity of the event is increasing. The number of entries is already 3X compared to the first edition. This also reflects the wealth of design talent we have in this country. At Lexus, we believe in the power of design and how it can help build a sustainable tomorrow. LDAI is our effort at unlocking that power of design."
Jury member and Vice President of Lexus Asia Pacific Division, David Nordstrom, further added, "It's not just the high number of entries, the quality of entries are very impressive too. It is heartening to see the convergence of Design & Technology across all categories."
The LDAI 2020 was judged by a panel of luminaries from the design field. The winners of the 10 categories, and the Jury's Choice Award, received Lexus Design Award India trophies designed specially by Michael Foley, and the winning works will be promoted by Lexus India on digital media and at the Lexus Guest Experience Centers.
This year, LDAI 2020 introduced a mentorship program as part of the process. To mentor the finalists from the conceptual category, Lexus welcomed a stellar ensemble of creative pioneers and industry stalwarts who helped the finalists refine their projects.
The ceremony was held during the Pune Design Festival, organized by Association of Designers of India (ADI). The winning entry from the global Lexus Design Award 2019, Algorithmic Lace by Lisa Marks, was exhibited at the venue.
ABOUT LEXUS DESIGN AWARD INDIA
The Lexus Design Award India (LDAI) seeks to recognize and reward the best industrial design executed by Indian designers, institutions, design consultancy firms, and in-house design teams of companies. Good design is defined by LDAI as the synthesis of ergonomic, aesthetic, commercial, industrial, and scientific disciplines to create products that simplify, enrich and better human existence. Lexus, as a brand, has always stood for excellence in design, ergonomics, sustainability, technological superiority, and responsible consumption; and the LDAI will mirror these brand values.
ABOUT LEXUS DESIGN AWARD
First launched in 2013, the Lexus Design Award is an international design competition that targets up-and-coming creators from around the world. The award seeks to foster the growth of ideas that contribute to society by supporting designers and creators whose works can help to shape a better future. It provides a unique opportunity for the finalists to work with globally recognized designers as a mentor to create prototypes of their designs, and then exhibit them at one of the design calendar's most important events.
ABOUT LEXUS
Lexus launched in 1989 with a flagship sedan and a guest experience that helped define the premium automotive industry. In 1998, Lexus introduced the luxury crossover category with the launch of the Lexus RX. The luxury hybrid sales leader, Lexus delivered the world's first luxury hybrid and has since sold over 1.5 million hybrid vehicles. A global luxury automotive brand with an unwavering commitment to bold, uncompromising design, exceptional craftsmanship, and exhilarating performance, Lexus has developed its lineup to meet the needs of the next generation of global luxury guests and is currently available in over 90 countries worldwide. Lexus associates/team members across the world are dedicated to crafting amazing experiences that are uniquely Lexus, and that excite and change the world.
Website: www.lexusindia.co.in
Facebook: @LexusIndia
Instagram: @lexus_india
Official Hashtag: #LexusDesignAward
ABOUT ADI
ADI, Association of Designers of India, is a Not for Profit society with vision to be a world class network representing Indian Design community, creating an interface between design professionals, industry, education and policy makers. Pune Design Festival is in its 12th edition since conception and is a flagship activity of ADI, Pune Chapter.
Details of ADI can be found at www.adi.org.in
ABOUT PUNE DESIGN FESTIVAL
Pune Design Festival has been organized every February since 2006 by the Association of Designers of India Pune Chapter. What's unique about the PDF is its process of co-creation: practicing designers and design professionals met to celebrate design, understand its impact and learn from stories of design change agents across all disciplines.