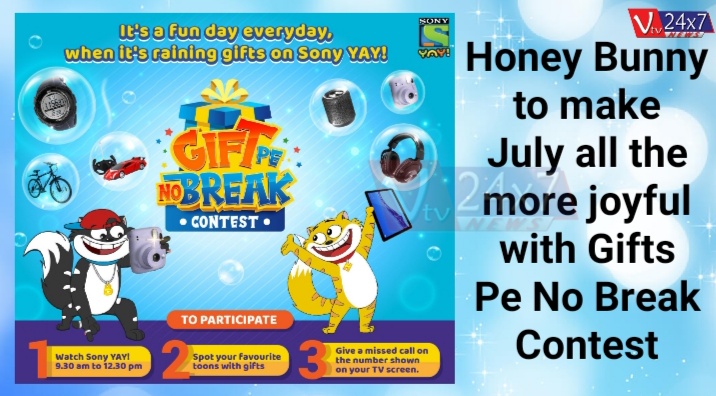 The popular Kids Entertainment channel -Sony YAY! now will have gifts for kids every day (from 29th June onwards). The channel is all set to spark this joy amongst kids with unlimited gifts with their special on-air contest called Gift Pe no Break. As the title suggests, the channel and kids favorite YAY! toons Honey-Bunny have decided to shower the kids across the country with a chance to win exciting gifts like Instant Camera, Cycles, watches, headphones and much more along with a non-stop, break-free, entertainment between 9:30 AM to 12:30 PM.
After the high-on-entertainment summer vacation line-up, kids are in for a surprise treat as the channel has decided on the entire cool prizes basis every kids wish list. While YAY! toons may not be able to physically enthrall these kids with gifts but the kids get a chance to win while they watch their favorite characters without any commercial break, For all they have to do is to spot the adorable duo of Honey-Bunny, pop-up on their screens with unique Sony YAY! gifts, and give a missed call to the number displayed in the channel, that gives them a chance to take home a host of supercool YAY! prizes.
Through this gifting marathon by Sony YAY!, the channel aims to shower kids with ample amount of gifts as well as cement a special place in their heart that lasts forever.
About Sony YAY! :
Sony YAY! is the first kid offering from Sony Pictures Networks, India. Its vision is to be a part of kids everyday lives through various endeavours. A channel targeted at kids aged 2 14 years, Sony YAY! is here to set new standards and benchmarks in kids' entertainment. The channels content is unique, fresh and relatable and is produced in India. The channel, within one year, produced 6 original shows which include Honey Bunny ka Jholmaal – a slapstick comedy with hilarious adventures of an odd team of pets, Paap-O-Meter- a unique laugh-out-loud ghost comedy and KickO and Super Speedo a tale of a super-kid and his futuristic gadget car who are out to save Sun City and Guru Aur Bhole a musical comedy, etc. Available in Hindi, Tamil, Telugu, Bangla, Marathi, Malayalam and English. Sony YAY! is the first kids channel to be available in 7 languages. The channel has entered into licensing and merchandising, making their endearing characters a part of kids lives wherever they are.
About Sony Pictures Networks India (SPN):

Sony Pictures Networks India (SPN), is an indirect wholly owned subsidiary of Sony Corporation, Japan.
SPN has several channels including Sony Entertainment Television (SET and SET HD), one of India's leading Hindi general entertainment television channels; MAX, India's premium Hindi movies and special events channel; MAX 2, another Hindi movie channel showcasing great India Cinema; MAX HD, a high definition Hindi movie channel airing premium quality films; WAH, the FTA channel for Hindi movies; SAB and SAB HD the family-oriented Hindi comedy entertainment channels; PAL, a genre leader in rural Hindi speaking markets (HSM) showcasing the best of Hindi general entertainment and Hindi movies from SPNs content library; PIX and PIX HD, the English movie channels; AXN and AXN HD, the channels showcasing the best in Reality, Entertainment and Drama; Sony BBC Earth and Sony BBC Earth HD, the premium factual entertainment channels, Sony AATH, the Bangla entertainment channel; YAY!, the kids entertainment channel; sports entertainment channels – SONY SIX, SONY SIX HD, SONY TEN 1,  SONY TEN 1 HD, SONY TEN 2, SONY TEN 2 HD, SONY TEN 3, SONY TEN 3 HD; Sony मराठी, the Marathi general entertainment channel; SonyLIV – the digital entertainment VOD platform; SPN Productions, the networks' film production arm and Studio NEXT the independent production venture for original content and IPs for TV and digital media. SPN reaches out to over 700 million viewers in India and is available in 167 countries.
The network is recognized as an employer of choice within and outside the media industry. SPN is a recipient of several awards, including the Great Place to Work®, Aon Best Employers India awards in recognition of SPNs unique workplace culture and exceptional people practices, consistently ranking amongst Indias Top 10 Companies with Best Health & Wellness Practices by SHRM & CGP Partners and listed by Working Mother & AVTAR as one of the 100 Best Companies for Women in India.
Sony Pictures Networks India Private Limited is in its 25th year of operations in India. It has a subsidiary, MSM-Worldwide Factual Media Private Limited and an affiliate, Bangla Entertainment Private Limited in India.
For more information, log onto www.sonypicturesnetworks.com