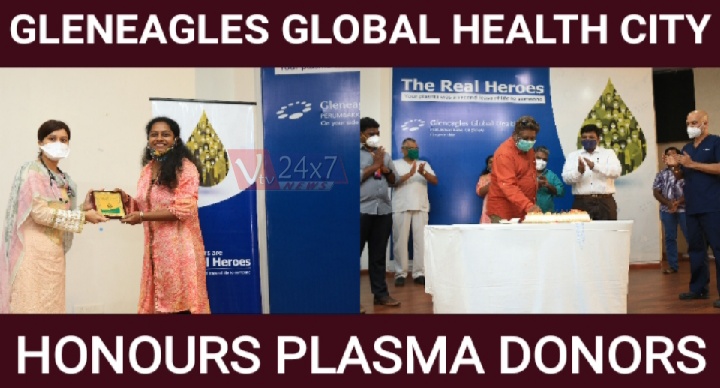 COVID-19 Heroes who have set an example for many by donating plasma and saving 17 critically ill patients were felicitated by the hospital
Chennai, August 5th, 2020: Gleneagles Global Health City, Chennai, the largest facility of Gleneagles Global Hospitals group felicitated the COVID-19 heroes today who have recovered from the deadly coronavirus and come forward to voluntarily help 17 critically ill patients by donating their plasma at the hospital. A couple of these donors were the frontline heath care workers and staff from the hospital itself, who happily donated their plasma and set an example for others.
All the plasma donors were honoured by Dr Alok Khullar, Chief Executive Officer, Gleneagles Global Health City. Plasma donors are all men, aged between 30 and 50. The recipients of plasma are aged between 20 to 90 years. The plasma recipients also shared their experience and thanked the donors for participating in this noble cause and saving lives.
Speaking on the occasion, Dr Alok Khullar, CEO, Gleneagles Global Health City, Chennai said "As a leading and responsible health care provider, we feel it is important to create awareness among people who have recovered from COVID-19 as well as general public about plasma donation. A large number of people have successfully recovered from COVID-19 and their plasma can be life saving for critically ill patients. Each person can save potentially 4 lives just by donating one unit of their plasma. Donate and Save lives."
Dr Subramaninan Swaminathan, Director – Department of Infectious Disease and Infection Control, Gleneagles Global Health City, Chennai said "Plasma therapy is an important treatment option for patients who are critically ill with COVID-19 and are not responsive to the currently available options. Patients who recover from COVID-19 develop a natural resistance called antibodies which are found in the section of blood called the plasma. During Plasma therapy, plasma that is obtained from the blood of the patients who have recovered from COVID-19 is transfused into patients who have severe COVID disease, helping them to boost their immunity to fight the Coronavirus."
Dr Ashwin Karuppan V, Consultant – Department of Internal Medicine, Critical Care & Diabetology, Gleneagles Global Health City, Chennai said "Patients who recover from COVID-19 in 14 days, fall in the age bracket of 18-50 and weigh above 50 kgs are eligible for plasma donation. People suffering from diabetes or hypertension cannot donate and the entire process of plasma donation will take up to an hour."
The hospital followed all safety and social distancing norms during the felicitation programme. The event was a gesture from the hospital to acknowledge the contribution and spirit of the donors and encourage the patients who have already recovered from COVID-19 to donate their plasma to others and save more lives.