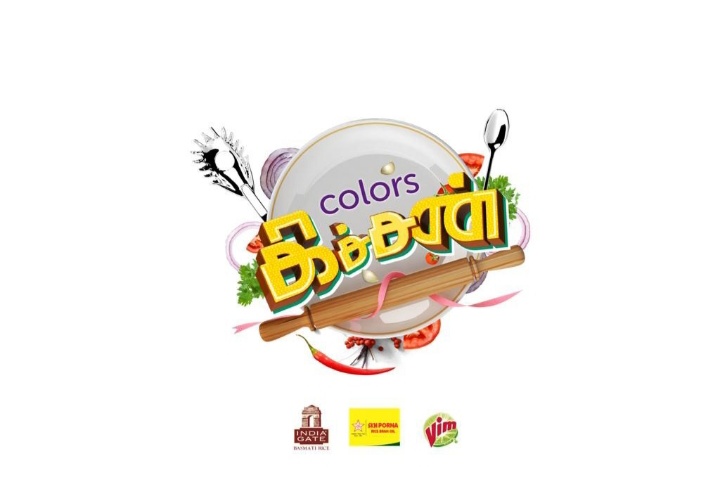 ~ Tune in to COLORS Tamil this weekend on 21st & 22nd November at 12:00 PM to watch celebrities whip up a scrumptious meal with Chef Damu and Chef Shreeya Adka!~
Chennai, 19th November 2020: COLORS Tamil viewers are in for a treat as this weekend's episodes of COLORS Kitchen offer an array of exotic dishes by renowned Chef Damu and Chef Shreeya Adka. Adding to the fun quotient, the episodes will have celebrity Swathi on Saturday and Madhumitha and Sripriya on Sunday showcasing their culinary skills by cooking up simple, delectable dishes. Tune in to COLORS Kitchen on November 21 and 22 at 12:00 pm only on COLORS Tamil to catch all the excitement and satiate your cravings.
Hosted by energetic RJ Sri Ranjini, this weekend's episodes will have Chef Damu showcasing simple and flavoursome recipes like Thakkali Pachadi and Chinna Vengaya Chutney as part of the first segment – Damu Darbar.
Making it even more entertaining, the following segments will have celebrities engaging in a fun-filled set of tasks to bring out the hidden master chefs in them. As part of the segments, VIP Veetu Samayal and Killadi Cook, celebrities will showcase a variety of dishes like Vengaya Payasam, Evening Idiyappa Masala, Broccoli Pistachio and Inipu Pulippu Chicken.
Offering a perfect end to each episode, Chef Shreeya Adka as part of the Suda Suda Samayal segment will showcase two of her flagship recipes – Bunny Chow and Stuffed Chapathi Mukkonam.
Don't forget to tune in to this weekend's episodes of COLORS Kitchen to learn all about these mouth-watering dishes on 21st and 22nd November 2020 at 12 p.m. only on COLORS Tamil.
COLORS Tamil is available on all leading cable networks and on all DTH platforms – Sun Direct (CH NO 128), Tata Sky (CHN NO 1515), Airtel (CHN NO 763), Dish TV (CHN NO 1808) and Videocon D2H (CHN NO 553).
About COLORS Tamil: Launched in February 2018, COLORS Tamil is the youngest general entertainment channel from the stable of Viacom18 that thrives to entertain the Tamil speaking viewers around the globe through distinctive and powerful stories that inspire and celebrate women and their families. Positioned as Idhu Namma Oru Coloru (the colors of our motherland), COLORS Tamil focuses on storytelling that matches the rich heritage of the Tamil Nadu culture with qualitative and innovative programming. Some of our flagship shows are Velunachi, Arya's Enga Veetu Maapilai, Dance Vs Dance, COLORS Comedy Nights, Singing Stars, Oviya, Vandhal Sridevi, Perazhagi, Thirumanam, Thari and Malar amongst others.
About Viacom18: Viacom18 Media Pvt. Ltd. is one of India's fastest growing entertainment networks and a house of iconic brands that offers multi-platform, multi-generational and multicultural brand experiences. A joint venture of Network18, which owns 51%, and ViacomCBS, with a 49% stake, Viacom18 defines entertainment in India by touching the lives of people through its properties on air, online, on ground, in shop and through cinema.